You Went Live, Now What?
Launching a new claims management solution will improve and streamline your organization's claim management results. Here's what to watch out for and 4 best practices to master beyond Go Live.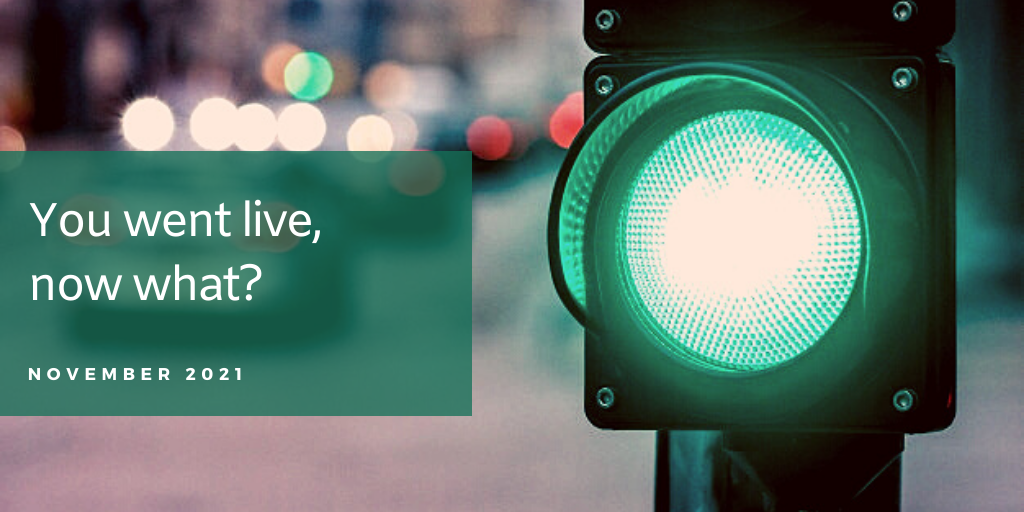 You went live, now what?
Launching a new claims management solution will improve and streamline your organization's claim management results. Here's what to watch out for and 4 best practices to master beyond Go Live.
Following months of painstaking planning and continuous hours, your organization is ready to launch a new claims management solution.
Now it is time to start thinking about the day after Go-Live – Day 2.
This is just the beginning.
Before Go Live, you are prioritizing the appropriate functionalities for the initial implementation phase. Unfortunately, some items can disappear as they are not needed for Day 1. As Phase II draws closer, that is the opportunity to refer to your original wish list and decide if these are worth incorporating into the regular updates and enhancements of your claims management solution for enhancing future claims administration.
Preparing a clear plan beyond Go-Live is essential to implementing these Phase II features as well as to the prolonged success of your claims management system.
Watch out for these Mistakes after Go Live
A learning curve is to be projected after implementing a new claims management system. Blunders are customary, so watch out for the most common mistakes. For instance, a new claims system is the perfect opportunity to create a seamless process for increasing adjuster efficiency, especially for automation features. Be sure to take advantage of the change to rework your current workflows.
Secondly, it is vital to successfully transfer the implementation team's knowledge onto the customer support team promptly to ensure an affluent operation moving forward. It is best to encourage these two teams to work congruently and include customer support during the training.
As a final step, when employees begin working in the claims management system, be ready for opportunities to both learn and improve the system. Instead of worrying, accept changes – such as new workflows or processes that help organizations take full advantage of your claims management solution's expertise and technical capabilities.
Successful Go-Live Best Practices
A continuous Project Plan with improved periods. A big mistake is cutting the tie between the implementation team right after Go Live. Be sure to ask for an ongoing effort between the implementation team and the customer support team to ensure a high level of support and seamless adoption of the new claims system. During this time, be sure to reflect and see what is or is not working. Ask the claims vendor to maintain a list of issues and prioritize fixes.
Ongoing training to get accustomed to the new claims system. It is not until Go-Live that employees will see how well they will adapt to the new claims system with regards to dashboards, reporting, analytical functionalities, etc. Because of this, additional training after launch works best as employees are in the system day in and day out. FileHandler Enterprise offers unlimited phone, web, and remote training services that include training, custom development definitions, business analysis, testing, and more. Each of these helps tailor training to your claims management needs.
Automation Opportunities. When using a claims management system, it is essential to embrace its automation features fully. After Go-Live, look to improve workflows through business automation tools. It could easily be true that your employee currently performs multiple tasks that can easily be streamlined through FileHandler Enterprise's claims management automation tools. Increase adjuster efficiency through automation and start saving time not only for adjusters but claimants as well.
Feedback is essential. As users call into the support line, they call with insights into how they believed the claims management system would work versus how it was implemented. Here you can encourage the support team to listen and capture this feedback. It is this feedback that can provide how to optimize the claims management system next and which features need to be prioritized as updates come up.
What's next? Steady Improvement
A successful launch is measured in how well your team monitors, evaluates and improves the claims management system post Go Live.
That first minute of Go Live, your organization is succumbed to support requests, from user issues to technical issues. Overwhelming is an understatement. Be sure to track these issues to better understand what is happening and better be able to find opportunities for improvement. It is then you can prioritize what needs immediate attention and what can wait.
With a new claims management system such as FileHandler Enterprise, there is endless opportunity to transform the way your business processes claims. Understanding that the Go Live period does not end at Day 1, but instead opens a new door for steady improvement will greatly enhance the success of your new claims management system.
JW Software was started in 1989, as a software company designed to create custom business applications for small businesses in the St. Louis area. The company found a niche in the insurance industry, specifically Third-Party Administrators who needed Claims Management Software to manage their business needs and launched the claims management software. FileHandler™ has become a trusted software solution in the claims and risk management market for the past 31 years. JW Software is continuing its growth and evolution in 2021 with the launch of FileHandler Enterprise™, the newest claims management solution incorporating the newest technology and security to the system. FileHandler Enterprise™, the flagship claims management software, and PolicyHandler, a complete Workers' Compensation Policy Management System, have evolved to develop a comprehensive web-based software solution for businesses to effectively manage policies and insurance claims.