Work from home with FileHandler Enterprise: Save time. Organize. Automate
The spread of COVID-19 has dramatically changed our world, overthrowing everything from our daily routines to where and how we can work.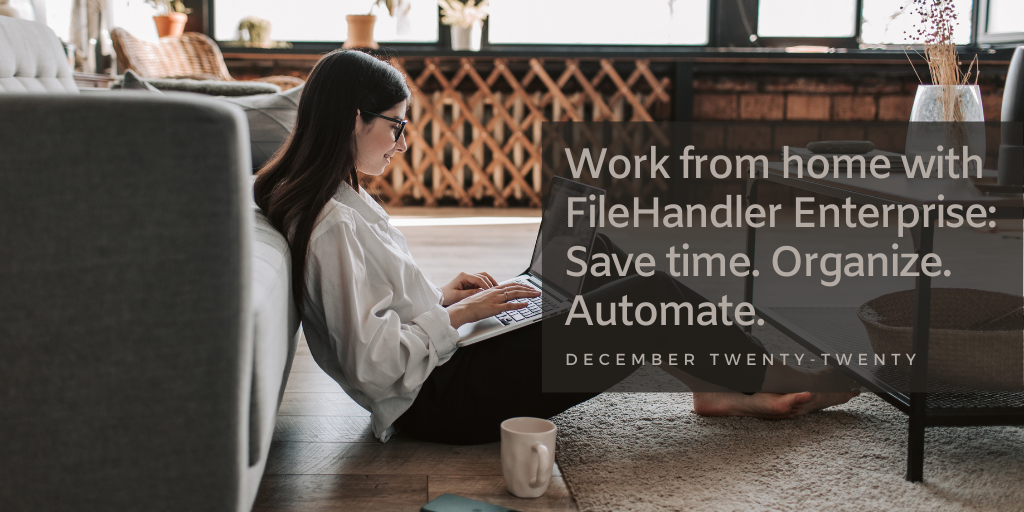 The spread of COVID-19 has dramatically changed our world, overthrowing everything from our daily routines to where and how we can work. While these changes have thus created a lot of uncertainly and conjecture about our future, we are also seeing major shifts in how business is conducted with an encouraging acceleration of change. Consequently, mobile and digital adoption has been pushed to the front creating a new normal for how business is done.
Digital use in response to COVID-19 has resulted in a new reality for the claims industry. As businesses look to the future, insurers that recognize and quickly adapt to the ever-changing needs are best positioned for a competitive advantage. Utilizing FileHandler Enterprises' digital claims management solution, insurers gain a competitive advantage in a changing market.
As for how we do business changes, how we process claims must follow suit. More and more people are working from home; thus, adjusters are in desperate need of a digital claims management solution that improves claims processing and reduces claims cycle times. FileHandler Enterprise supports a work from home environment where adjusters save time, organize data, and automate tasks to better manage claims.
FileHandler Enterprise's Work from Home Advantages:
Save time: JW software is focused on putting data at the user's fingertips quickly to effectively manage their business. With our built-in dashboards and report designer, our claims management software helps you generate rich visual reports that suit your needs on-demand. Build reports that help your business effectively manage the claims process and schedule them to run, export, and email them on a concurrent basis.
Organize: Claim handlers run on efficiency. With FileHandler Enterprise, process claims more uniformly with our efficient note and diary functionality. Adjusters' notes are date and time stamped with user-defined note types that may be attached to each note to be used as a data point for sorting, filtering, and/or reporting. FileHandler's integrated diary functionality provides a comprehensive tool that allows both adjusters and supervisors to track and monitor claim activities.
Automate: FileHandler Enterprise offers over 50 standardized business automation rules to streamline your claims management and risk management process. Create tasks to automate workflows to increase the efficiency of your team. Attach business rules to virtually any button in the system and automatically generate emails, letters, reports, diaries, notifications, or notes on the completion of a task.
JW Software was started in 1989, as a software company designed to create custom business applications for small businesses in the St. Louis area. The company found a niche in the insurance industry, specifically Third-Party Administrators who needed Claims Management Software to manage their business needs and launched the claims management software. FileHandler™ has become a trusted software solution in the claims and risk management market for the past 32 years. JW Software is continuing its growth and evolution in 2021 with FileHandler Enterprise™, the newest claims management solution incorporating the newest technology and security to the system. FileHandler Enterprise™, the flagship claims management software and PolicyHandler, a complete Workers' Compensation Policy Management System, have evolved to develop a comprehensive web-based software solution for businesses to effectively manage policies and insurance claims.