Spreadsheet Risk: Escape the errors with FileHandler Enterprise
Have you considered the impact a broken spreadsheet may have on your business?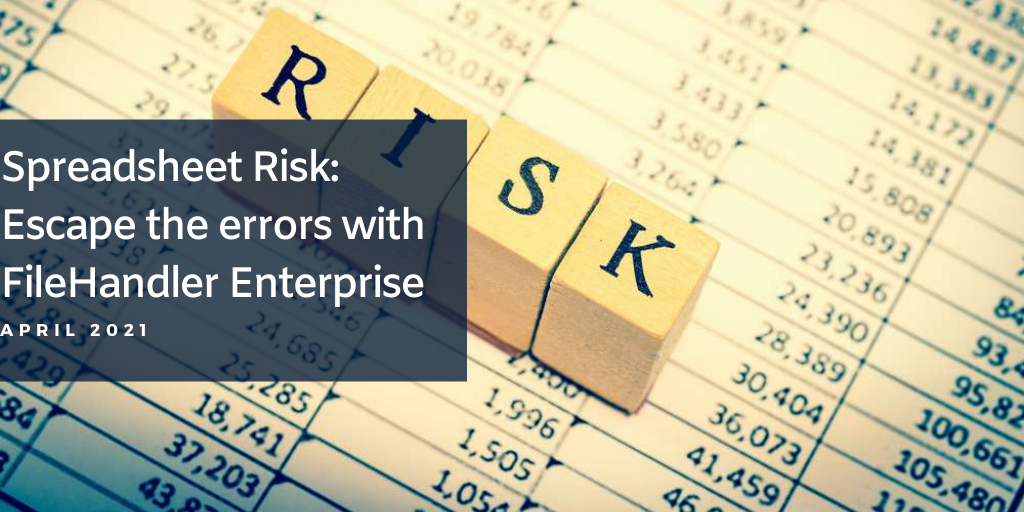 Have you considered the impact a broken spreadsheet may have on your business? Spreadsheets of risk data open businesses up to the potential of additional liabilities – the very thing they were trying to diminish! Learn how to recognize spreadsheet risk and spot common errors to help your business reduces its exposure.
Have you ever involuntarily deleted essential fields when editing an online spreadsheet, and were you unable to retrieve them?
Most of us can say so. Unfortunately, this situation is more than just embarrassing for businesses, it is a substantial liability.
Spreadsheet risk can cause a considerable financial loss because of errors in gathering, maintaining, and aggregating data manually.
The digital age has allowed for quick data collection in most industries. With spreadsheets becoming more complex and users' ability to increasingly manipulate them without management – errors build. These key factors have led to increased spreadsheet risk for businesses.
What is spreadsheet risk?
Spreadsheets are an essential day-to-day business process of many organizations that helps facilitate companies to simplify and manage intricate procedures, projects, and reports. However, companies have come to rely on this adaptable and simple format to track important company information such as financials. Because of this dependence on spreadsheets, they can single-handedly be the source of failure of businesses. Consequently, companies need to implement the correct means against potential spreadsheet risk.
According toMitratech, spreadsheet risk is "the impact on a business caused by undetected mistakes, errors, and omissions in vital spreadsheets that a company depends on for things like cost management."
4 popular spreadsheet errors
Spreadsheet errors occur more with input data, formulas, calculations, and formatting. The more errors that occur, the more risk the business takes on. Check out the following popular spreadsheet errors:
Lack of oversight, management, and control. Most organizations using spreadsheets to collect insurance renewal information and manage risk do not have a senior employee creating rules on how the data is collected, measured, or distributed. Since any employee may open an excel spreadsheet, access is hard to limit without formal procedures around oversight, management, and control.
Data Integrity. Formulas and links can be damaged and changed by the simple act of cutting and pasting data from one location to the next. Power outages, breakdowns, and machine failures can all cause data to be wiped. The most damage caused is the undetected flaws in spreadsheets, which could be financial, reputational, or regulatory in nature. Think about how this affects specific situations and unique data points. With more users, the greater the challenge it is to keep the data's integrity.
Spreadsheet errors. At the end of the day, people make mistakes. No matter how accurate or well at their job they may be, eventually, mistakes do happen.
Unskilled or unauthorized users. Overestimation in a user's ability to create and manage data can lead to inaccurate computations and wrong formulas or unauthorized users gaining access to a spreadsheet. It is easy for an unskilled user to manipulate and change data in a spreadsheet they are unfamiliar with, or when it comes to data they simply do not understand.
Mitigate Spreadsheet Risk with FileHandler Enterprise
It is easy to see why and how spreadsheet errors happen. However, businesses continue to work in spreadsheets because of their utility and flexibility. And yet, when it comes time to collecting information for insurance renewal, popular spreadsheet errors quickly become a great source of stress.
With FileHandler Enterprise, businesses proactively reduce errors and inaccuracies to meet data requirements for insurance renewals and new coverage requirements. A single technology solution is better off for businesses that can eliminate the need for fragmented spreadsheets and inaccurate monitoring. FileHandler Enterprise reduces the risk of human error, streamlines data collection while ensuring data accuracy, and provides a complete picture of the business' total risk for the insurance carrier. With FileHandler Enterprise, users can manage the risk and entire life of the claim all under one solution.
JW Software was started in 1989, as a software company designed to create custom business applications for small businesses in the St. Louis area. The company found a niche in the insurance industry, specifically Third-Party Administrators who needed Claims Management Software to manage their business needs and launched the claims management software. FileHandler™ has become a trusted software solution in the claims and risk management market for the past 32 years. JW Software is continuing its growth and evolution in 2020 with the launch of FileHandler Enterprise™, the newest claims management solution incorporating the newest technology and security to the system. FileHandler Enterprise™, the flagship claims management software, and PolicyHandler, a complete Workers' Compensation Policy Management System, have evolved to develop a comprehensive web-based software solution for businesses to effectively manage policies and insurance claims.