Defining Time Management as a Claims Adjuster
Claims adjusters can have a taxing job evaluating the legitimacy and accuracy of damage claims. Often, adjusters are pulled in multiple directions.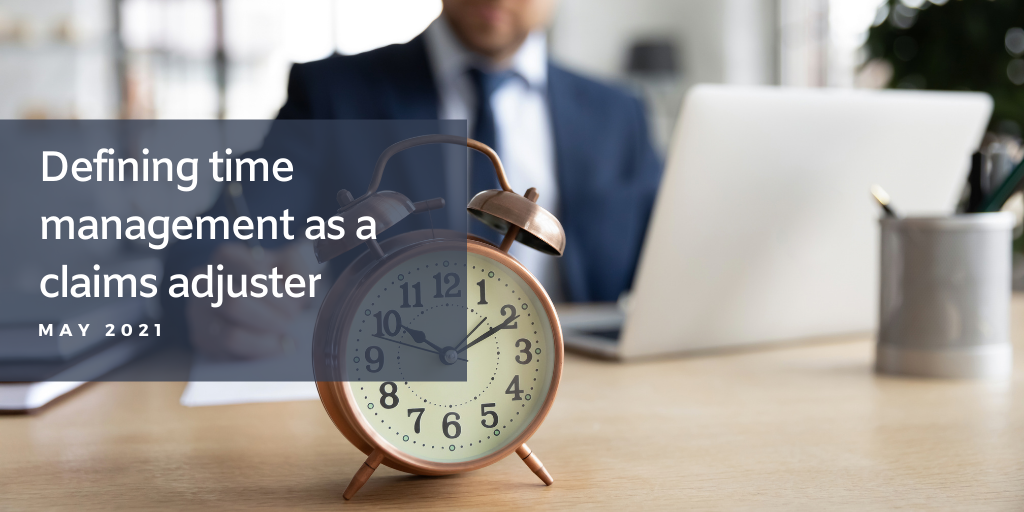 Claims adjusters can have a taxing job evaluating the legitimacy and accuracy of damage claims. Often, adjusters are pulled in multiple directions. Simultaneously they work with several different clients, conducting research, spending time in the field assessing property damage, and usually managing numerous claims. Thus, many adjusters work irregular weekly schedules from early mornings, evenings, and weekends, to accommodate their workloads. To maintain a great work-life balance, it is key for adjusters to define time management for both themselves and their clients. From mastering adjuster time management skills and setting goals and prioritizing, to going paperless, using these top three tips will help maximize adjuster workdays.
Time Management
As an adjuster, the act of juggling several claims at once is a common occurrence. To better serve each client with maximum attention, collaborate with teams internally to be more efficient with your time. Start reviewing day-to-day activities and tasks to find where time is overspent or underspent to revaluate your days. Do you mix personal tasks throughout the day? Start scheduling your days with diaries and task management tools like FileHandler Enterprise to incorporate and better serve the adjuster's time management skills.
Set Goals and Prioritize
When it comes to the claims process, specific steps are required. For instance, the claim beings with the loss notification and continues with the investigation, payments, and finally the closure. Claim handling at various stages of closure can certainly overwhelm a claims adjuster. Adjusters need to focus by setting goals and prioritize them. With FileHandler Enterprise claims adjusters complete tasks that are important first with our Live Task Panel, a fully integrated tool that provides individual users real-time claim updates directly on the FHE Workbench. Task notifications include notifications for frequent items like new and late diaries, new claims assigned, messages and claims accessed history. FileHandler Enterprise's Live Task Panel helps claims adjusters set goals for their multiple claim files and prioritize them accordingly.
Go Paperless
Cutting paper out now may seem impossible but removing as much as possible results in a more organized adjusting work environment. Firstly, with electronic claims, an electronic solution like FileHandler Enterprise dramatically reduces paperwork mistakes for you and your customers. For example, our Document Manager gives the user the ability to scan and attach multiple-page documents into the claim file along with annotations. The Document Manager allows all online forms and e-documents to stay organized within the claims. The last thing you want is another cluttered desktop. Secondly, utilize the attachment section within each claim file for a paperless work environment. Users can drag and drop the attachments directly into the attachment section as well as browse for attachments to upload. During the upload process, the attachments can be assigned to a Category, Type, Folder, and or Description.
4 Ways Claim Organizations Can Improve Productivity and Outcomes will also help keep you efficient. JW Software can help increase claim adjuster productivity and time management with our enterprise-grade claims management system, FileHandler Enterprise. Learn more about FileHandler Enterprise or request a demo by contacting our team at 314-843-5950.
JW Software was started in 1989, as a software company designed to create custom business applications for small businesses in the St. Louis area. The company found a niche in the insurance industry, specifically Third-Party Administrators who needed Claims Management Software to manage their business needs and launched the claims management software. FileHandler™ has become a trusted software solution in the claims and risk management market for the past 32 years. JW Software is continuing its growth and evolution in 2020 with the launch of FileHandler Enterprise™, the newest claims management solution incorporating the newest technology and security to the system. FileHandler Enterprise™, the flagship claims management software, and PolicyHandler, a complete Workers' Compensation Policy Management System, have evolved to develop a comprehensive web-based software solution for businesses to effectively manage policies and insurance claims.