Unique Agency Needs - Why Settle for Cookie Cutter Solutions
Insurers who develop and execute a digital strategy can significantly gain an essential competitive advantage.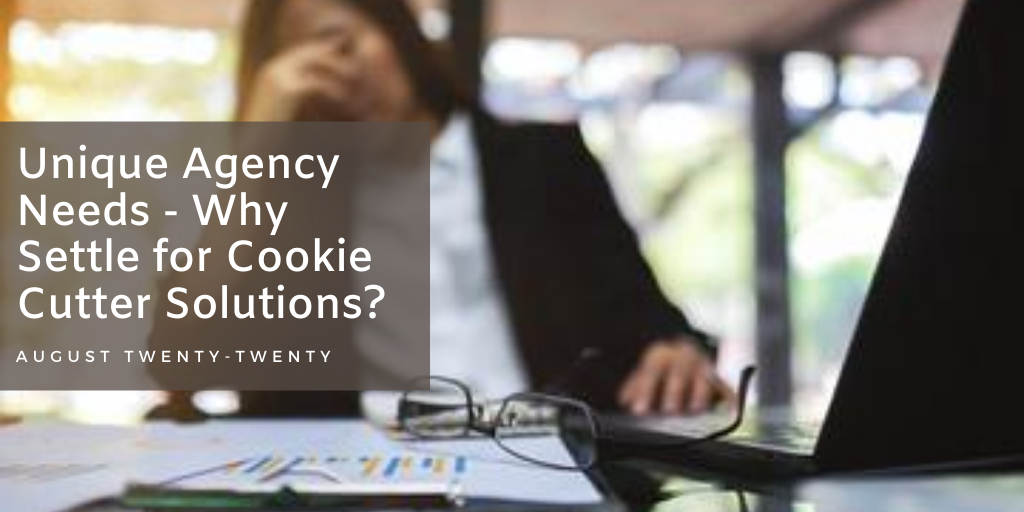 Customize a single insurance application and cut through the noise.
Insurers who develop and execute a digital strategy can significantly gain an essential competitive advantage. If this is the case, why are insurance agencies industry-wide still opting to run their business on the cookie-cutter model for Software as a Service when insurance agency needs vary, rather than a one size fits all?
At a glance, the time and costs affiliated with selecting and implementing a new insurance technology can seem immense. But a cookie-cutter model for Software as a Service is not the answer. Insurance agencies have complex needs where a one size fits all SaaS is not the solution. Instead, a modern claims processing administration platform designed to suit businesses' needs with scalability and adaptability varying from single employees to hundreds is. While it can be a significant undertaking, selecting the right solution for an agency and its digital platform is essential.
JW Software Helps to Scale (and Adapt) to Your Business Needs
In our experience, the claims management software that "fit[s] the insurer, and its implementation focus[es] on adapting rather than adapting the standard software" states McKinsey, has a healthier opportunity to put users first. For many insurances carriers, the significance of a customer-centric application with data at the users' fingertips for faster claims processing is highly unique.
JW Software understands the organizational investment that goes into scaling, implementing, and the importance of agency buy-in, which is why we value getting your business to market faster with these essential factors:
A single platform solution to reduce implementation time but also to centralize data. This creates a single, organization-wide data pool, focusing solely on configurations to shorten the overall project plan timelines.
A highly configurable, scalable solution that allows administrative functionality tools for users, all without custom code or developer time. A robust business rules instrument and workflow management tool that allows task automation giving your organization the functionality it needs to gain greater effectiveness.
Seamless built-in reporting, data, and analytics capabilities link with live data dashboards with up to the minute information and over 90 standard reports claim and system-specific. The dashboards can simply be designed with the drag and drop dashboard builder. Use the standard reports or customize them to meet your needs with the included Report Builder, Design, schedule, and Distribute Reports automatically.
Get started with selecting the right Software as a Solution platform today to fit your insurance agency needs and have a seasoned team of industry professionals ready to thrust your team towards greater efficiency. Clients' needs are ever-changing, and that is why you want to work with a claims system that is agile and easily customized to your specific world. Request a demo to learn more about how JW Software can bring adaptability and scalability to the cookie-cutter, legacy models, and complexities of implementing insurance technology.
JW Software was started in 1989, as a software company designed to create custom business applications for small businesses in the St. Louis area. The company found a niche in the insurance industry, specifically Third-Party Administrators who needed Claims Management Software to manage their business needs and launched the claims management software. FileHandler™ has become a trusted software solution in the claims and risk management market for the past 32 years. JW Software is continuing its growth and evolution in 2021 with FileHandler Enterprise™, the newest claims management solution incorporating the newest technology and security to the system. FileHandler Enterprise™, the flagship claims management software and PolicyHandler, a complete Workers' Compensation Policy Management System, have evolved to develop a comprehensive web-based software solution for businesses to effectively manage policies and insurance claims.