Power of Real-Time Dashboards
In our digital world, digital dashboard reporting has improved operational communication, increased efficiency, and phases of user engagement.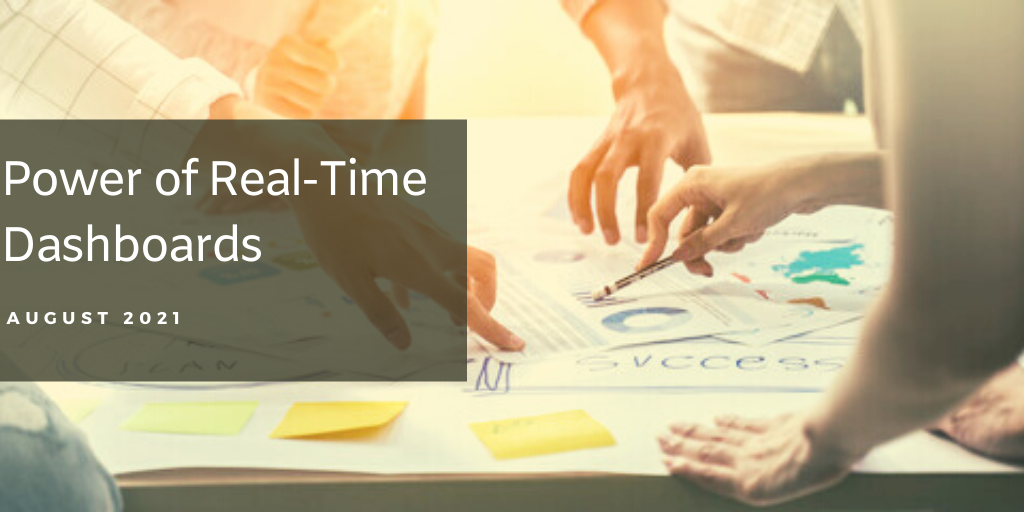 In our digital world, digital dashboard reporting has improved operational communication, increased efficiency, and phases of user engagement. As the dashboard has emerged as a tool to enhance overall operational intelligence, the adaptation of it does not always lead to an optimized usage.
Digital dashboards provide opportunity for organizations to show data in a methodical manner so that executives may make suitable decisions for the company. With interactive dashboards, organizations are better equipped to understand things and proactively analyze business.
What are dashboards?
Claims dashboards are considered operational analysis tools used by executives and claims managers to monitor claims metrics. Claim information or data can be viewed on a screen in the form of panels.
What are dashboard benefits?
Dashboards are important to claim managers because they help convert claims data into a valuable graphical representation that makes users act rapidly for business well-being.
Speedy and accurate decision making: Dashboards help executives, claims managers, and business analysts to access immediate and real-time analysis of critical claims data that helps them monitor performance and better understand insights for decision making.
Early problem identification: Dashboards help users to identify problems at an early stage as data is in real-time to determine root cause and work on corrective actions.
Instant business priorities: The unique purpose of dashboards is for users to check real-time progress of business targets. Dashboards help users stay focused and informed.
Real-Time Dashboards, what are they?
The real-time dashboard allows users to quickly act on the data to create or assign tasks or easily apply filter reports to simply understand current business operations and take immediate action. Yet, this only works if dashboards have all real-time and interactive features.
Customizable dashboard: Dashboards should be customizable to user business needs. Diagrams, tables, etc. should all be customizable per business requirements. This all helps users consistently get effective reports.
Easily built: With user-friendly and self-service business intelligence tools, users can easily build their own real-time dashboards. With FileHandler Enterprise, a drag and drop functionality facilitates the user-friendly model to help users easily build their own dashboards.
6 Real-time Dashboard Features
FileHandler Enterprise takes your data to the next level instantly by providing these intuitive features in your dashboard that will effectively boost your dashboard's report to work.
Snapshot Reporting: with filterable results
Drill ability: Dashboards can be built to search and drill into data directly from the individual dashboard
Live data: up to the minute data for live changing dashboards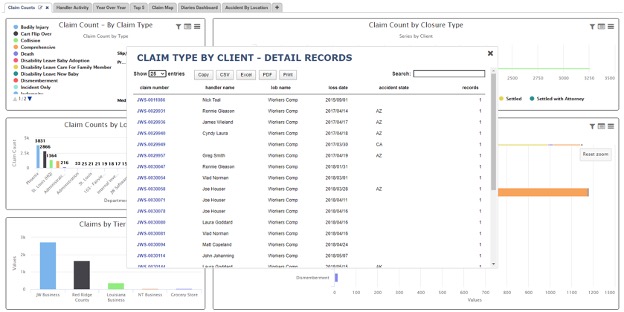 Several chart types including Line, Bar, Pie, Column, Map, and Tabular Graphs
Detailed Record Quick-Search: Quickly search within the drill down to produce information immediately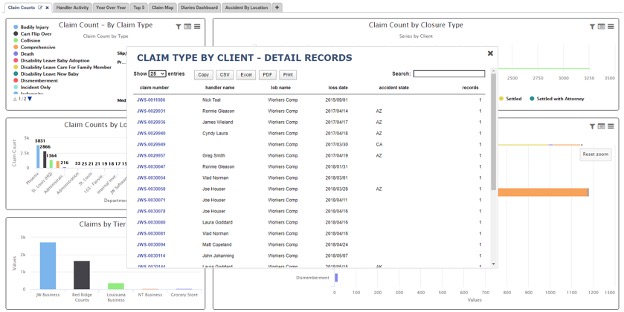 Individualized dashboards for clients, users, supervisors, etc.
JW Software helps businesses run real-time dashboards. With the many benefits of adopting real-time dashboards, the time is now to effectively help your business make better decisions. Start analyzing your claims data with FileHandler Enterprise and experience how user-friendly and easy it is to create your first chart and dashboard in a minute.
JW Software was started in 1989, as a software company designed to create custom business applications for small businesses in the St. Louis area. The company found a niche in the insurance industry, specifically Third-Party Administrators who needed Claims Management Software to manage their business needs and launched the claims management software. FileHandler™ has become a trusted software solution in the claims and risk management market for the past 32 years. JW Software is continuing its growth and evolution in 2021 with FileHandler Enterprise™, the newest claims management solution incorporating the newest technology and security to the system. FileHandler Enterprise™, the flagship claims management software and PolicyHandler, a complete Workers' Compensation Policy Management System, have evolved to develop a comprehensive web-based software solution for businesses to effectively manage policies and insurance claims.