Claims Management Made Easy for TPAs with Automation
TPAs are beholden to manual claims tasks that lack effective productivity. Automation can help. Learn the 4 steps TPAs need to take before they can start processing claims more effectively with automation.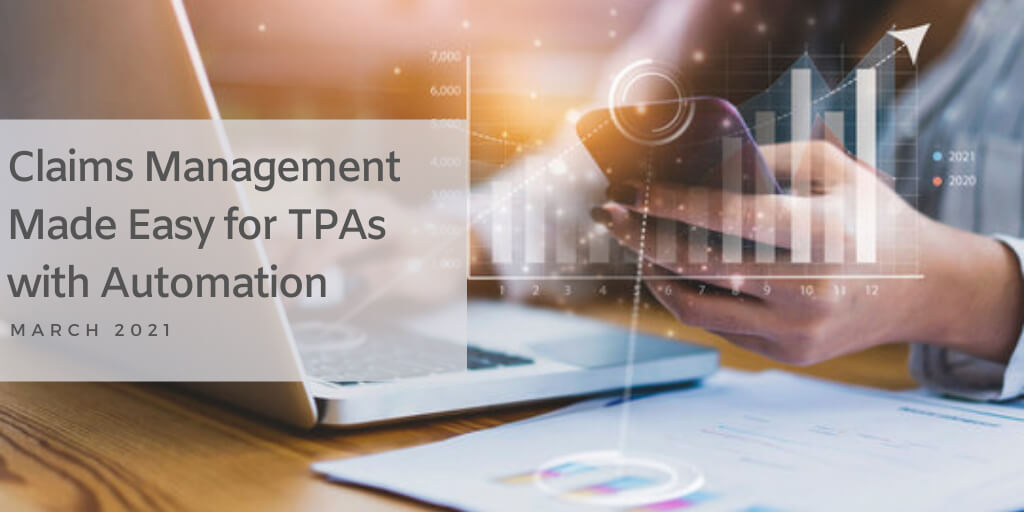 TPA's first support clients by processing claims and improving their claims' outcomes. Next, and most importantly, you are face-to-face with the end-user or claimants daily to move their claims through internally as quickly as possible.
And of course, if the business broker was the referral partner, then you must keep them happy, too, so you are top of mind when they are brokering their next deal. Although each of these three parties differs, together they all share one common goal- to process claims efficiently. Sounds simple enough, right? Unfortunately, processing claims efficiently is anything but simple.
Create automation efficiency in claims processing
The manual process of claims management is careless and disorganized. As an adjuster, most of your days are spent moving information in and out of the claim file. For instance, receiving and attaching PDFs to and from emails, scanning information in, forwarding on notifications, and pulling in data from numerous places to create reports. Each of these steps helps move claims onto the next stage.
Do you work in spreadsheets or a more user-friendly reporting program? Odds are the claims process used to move claims along from start to finish is, unfortunately, highly inefficient.
What if you could automate the entire claims process and streamline manual workloads by creating a single document management process? And what if that process allows you to attach files directly into the claim file and move them through 100% digitally? The good news is you can with FileHandler Enterprise.
4 critical steps necessary for TPAs to implement claim automation
Audit existing workflow — The best place to start is to review existing processes and workflows. Identify who does what from start to finish. Ask yourself how the initial claim information gets from intake to final resolution, including all the steps in between. Be sure to include all key stakeholders across the organization and how they interact with the claim to document every aspect of the claim. To accurately automate the system, organizations must name every small and large touchpoint within the claim, specifically, the first stage.
Recognize dead ends — Upon documenting all the inadequacies of the current claims process, it is time to examine each pain point and analyze each. Where are the dead ends in the existing claims management process? Why do they occur? Discuss turnover of staff, manual vs. digital workflows, the long-term inadequacies that were never noticed or resolved, carrier requirements, etc.
Envision YOUR Automation — Claims workflows and dead ends have both been identified. Now, it is time to envision your claims management automation process. At each pain point above, discuss how business technology tools could help optimize your workflows. Think about the three parties you are bound to - the end-user or claimant, the client, the carrier, and what value automation can offer to each. Establish what you want the automation of the claims to look like, how it will close the gaps left open by the past manual process, and how it will work for individual workflows.
Create your automation plan and GoLive! — Alas, here is where you create the workflow within the automation system, such as FileHandler Enterprise, to align it with how your staff currently works. We will help create a realistic action plan and timeline for implementation based upon the organization's business goals and pain points. Next, name a project lead in the office to lead the implementation and direct all inquiries to this person to streamline the process. At this point, involve all stakeholders to have their buy-in at all levels of the implementation. Within the automation system, consider how you want to customize reporting, analytics, and security tools. Create individual business rules for incident notification, audits, and field calculations.
Filling in the blanks to transition from manual to automated is not an easy task. Organizations need time, a dedicated team of individuals, and a testing period of enhancements. TPA's have two challenges - simultaneously maintaining their existing workload while overhauling that very system you are working in. And secondly, keeping employees, clients, and carriers happy coinciding with the transition.
With FileHandler Enterprise, the implementation process is a dedicated one in the name of efficiency, productivity, and enhanced outcomes for our clients to better process claims from start to finish.
About JW Software
JW Software was started in 1989, as a software company designed to create custom business applications for small businesses in the St. Louis area. The company found a niche in the insurance industry, specifically Third-Party Administrators who needed Claims Management Software to manage their business needs, and launched the claims management software. FileHandler™ has become a trusted software solution in the claims and risk management market for the past 32 years. JW Software is continuing its growth and evolution in 2020 with the launch of FileHandler Enterprise™, the newest claims management solution incorporating the newest technology and security to the system. FileHandler Enterprise™, the flagship claims management software, and PolicyHandler, a complete Workers' Compensation Policy Management System, have evolved to develop a comprehensive web-based software solution for businesses to effectively manage policies and insurance claims.