JW Software 2019 Review
JW Software year in review: 2019 was another year of milestones, innovations, and developing future insurance technology.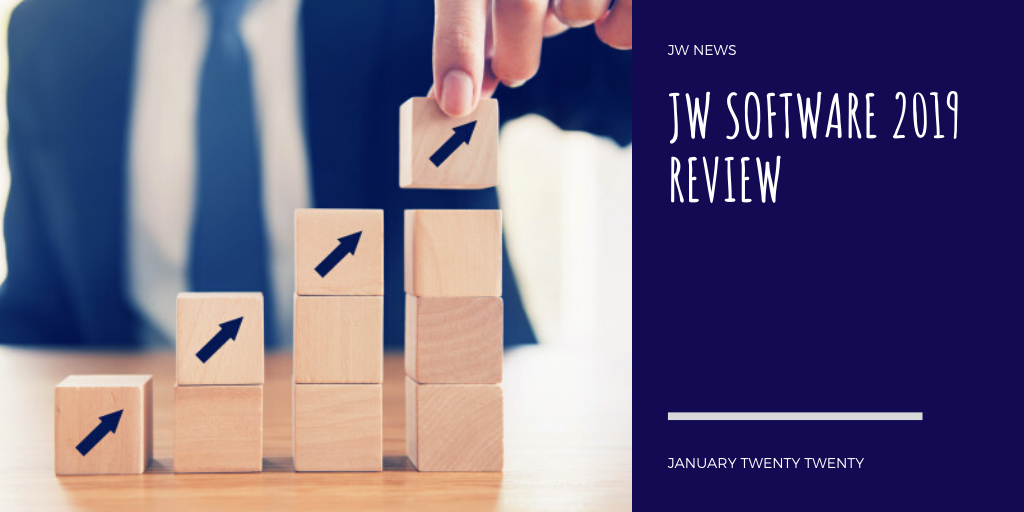 JW Software year in review: 2019 was another year of milestones, innovations, and developing future insurance technology. And with so much happening, we wanted to highlight some of the exciting moments and ideas that came about last year. We pride ourselves on providing software solutions you can trust and we pushed our services and support to succeed customer expectations. In a year of many accomplishments, we are excited to present some of the milestones that happened along the way in 2019.
"2019 was an exceptional year for JW Software! We continue to grow and 2019 was no exception. Another record-breaking revenue year in the books. I look forward to 2020 being even more robust."

by Jim Wieland, President of JW Software, Inc.

2 major enhancement releases and 5 minor enhancement releases: including the ODG integration, Workercompensation.com new flash forms, added reporting functionality, new smart import functionality, added RMIS functionality, Dashboard enhancements, enhanced security and privacy, and speed enhancements
The Launch of our new JW Software website
Record Revenue year for a Fifth consecutive year in double-digit growth
Ended the Year with a Toy Drive for the Dokaj Foundation and Marygrove Organization
Currently working on v 3.0 for FileHandler Enterprise
Now with 2019 in the rear-view mirror, we are already looking ahead to 2020 and all the incredible innovations ahead of us! We are grateful to have shared this year with all of you and are excited to continue supporting you this year!
JW Software was started in 1989, as a software company designed to create custom business applications for small businesses in the St. Louis area. The company found a niche in the insurance industry, specifically Third-Party Administrators who needed Claims Management Software to manage their business needs and launched the claims management software. FileHandler™ has become a trusted software solution in the claims and risk management market for the past 32 years. JW Software is continuing its growth and evolution in 2021 with FileHandler Enterprise™, the newest claims management solution incorporating the newest technology and security to the system. FileHandler Enterprise™, the flagship claims management software and PolicyHandler, a complete Workers' Compensation Policy Management System, have evolved to develop a comprehensive web-based software solution for businesses to effectively manage policies and insurance claims.