Supporting Superheroes this Holiday Season
Spiderman and Ironman are saving more than cities this season, they are saving the holidays.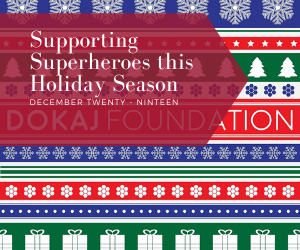 "You know, I guess one person can make a difference."- Stan Lee
Spiderman and Ironman are saving more than cities this season, they are saving the holidays. With the support of JW Software and other local businesses, the superheroes are collecting toys to deliver to children of local children's hospitals.
In the month of December, JW Software employees began collecting toys and money for our local superheroes of the Dokaj Foundation. With the goal of surpassing our donation last year, our Dokaj Toybox began overflowing with mass amounts of marvelous toys. Top toys in our donation are:
Frozen games
Race cars
Art sets
Ironman & Spiderman
Dinosaurs
Dokaj Superheroes

The Dokaj Foundation is a non-profit organization encouraging miracles for children in need. With the help of Ironman, Spiderman, and Batman, toys are dispersed throughout St. Louis Hospitals for hopeful children in need. By shining a little light on the big picture, The Dokaj Foundation keeps the spirit of the Holidays alive for children.
The main reason we started this, is because we are fortunate enough to be in the situation we are in now. Our parents & brother immigrated from Albania to come to America with full faith in the Lord not knowing what their future looked like. Now, we have a beautiful life. God has given our family many miracles, so we decided to give a few miracles ourselves with our charity. Another reason we started this charity was that we didn't want kids to lose hope in their own lives. We wanted to help them keep a sentimental value for themselves, faith. We didn't want them to lose faith in their own lives.
Want to learn more? Visit our Twitter for JWS updates!
JW Software was started in 1989, as a software company designed to create custom business applications for small businesses in the St. Louis area. The company found a niche in the insurance industry, specifically Third-Party Administrators who needed Claims Management Software to manage their business needs and launched the claims management software. FileHandler™ has become a trusted software solution in the claims and risk management market for the past 32 years. JW Software is continuing its growth and evolution in 2021 with FileHandler Enterprise™, the newest claims management solution incorporating the newest technology and security to the system. FileHandler Enterprise™, the flagship claims management software and PolicyHandler, a complete Workers' Compensation Policy Management System, have evolved to develop a comprehensive web-based software solution for businesses to effectively manage policies and insurance claims.