4 ways to eliminate insurance communication gaps
While communication gaps are not specific to insurance organizations, most insurance organizations have critical communication gaps preventing them from achieving their full potential.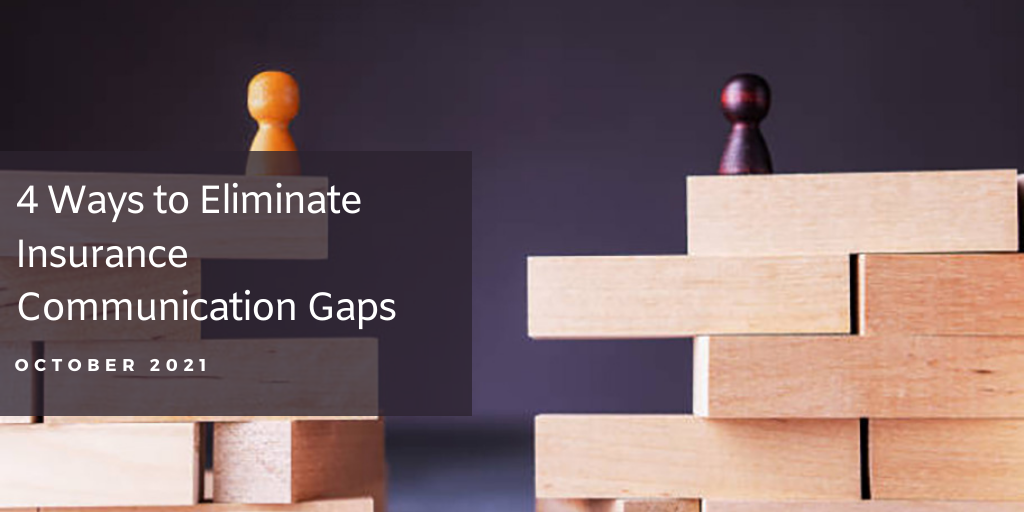 While communication gaps are not specific to insurance organizations, most insurance organizations have critical communication gaps preventing them from achieving their full potential. Clients are frustrated and looking for fast communication methods. Until these gaps are bridged, insurance organizations cannot provide the best customer service, operate at risk minimums, or increase revenue.
Claims automation can resolve this communication problem and help bridge the gaps. Claims technology that addresses these gaps will greatly impact both customer satisfaction and increase profits.
Here are four claims management technology tips to significantly improve claims communication and productivity.
1. Merging claims management data.
In insurance, merging claims management data into one application is a common claimstech strategy. First, many insurance organizations are built upon managing data across dozens of systems in various formats. The potential value of this data is vast, but because of the data's current layout, it is unusable to the organization and thus delivering zero value.
Simply put, the data sources do not easily or automatically transfer claims information back and forth, so the organization is not drawing on the accumulative value of this information. Moreover, organizations find they can create new knowledge they would not have once acquired when data sources are merged and claims information is understood.
The obvious solution is to merge claims management data into a single, cloud-based, and standardized application so that it is all in the same format. Additionally, it is essential to automate claims processes for integrating and standardizing future data that comes into the organization.
With this single source of data, insurance organizations can streamline claims communication. FileHandler Enterprise can help increase the efficiency of your claims management process and improve customer satisfaction with our business automation tools that help save time. Start streamlining standardized processes and allow adjusters to achieve work quicker with more accurate information in one data source.
2. Automation for claims reporting.
Data is what drives organizational decisions. Yet, many insurance organizations are stumped by the overhaul of manual work. For instance, claims analysts manually gather data from multiple sources and download it into spreadsheets where they then manipulate it and report their findings to decision-makers. This process has two main problems: time is wasted, and error is introduced. As an analyst communicates report findings, it is out of date. In addition, when humans start manipulating data, an error is most certainly entering the picture. While some errors are minor, some errors are quite costly. When organizational leaders count on incorrect data to make decisions, the impact can be more than significant to the organization.
The solution is automation for claims reporting.
Once claims management data is merged and standardized, this becomes easier. As data is gathered and communicated automatically, analysts have time to analyze data for business insights and growth. Not to mention, automation helps eliminate human error, which means leadership is making more confident decisions.
With FileHandler Enterprise our built-in claims management reports are customizable to meet your business needs. User customizable screens, layouts, and reports allow you to modify the look and feel of any report.
3. Populate intuitive, real-time dashboards.
As automation for claims reporting is finished, the insurance organization can grant access to those reports via dashboards.
Dashboards, driven by real-time data, are customizable for any role within the organization. The result: any employee may see real-time metrics for their job immediately.
This prevents all unnecessary and time-consuming email threads and meetings, but it also will increase employee engagement. As employees understand how their claims process fits into the organization's overall claims management goals, employee engagement increases.
4. Give customers more communication avenues.
In today's digital world, there are more ways than ever to communicate: phone, email, text, app message, etc. The big mistake insurance organizations make is choosing the communication method for customers.
Customers are used to quickly choose the communication method that fits their needs for a particular approach. A long, lengthy phone menu riddled with information slows customers down when an app can easily be the answer. It is frustrating to get canned replies from a chatbot when you have a complex question.
To prevent these communication gaps from pushing customers to alternative providers, insurance organizations can make a range of communication methods available to customers and what best fits their message.
The best chance at lessening additional communication gaps is to invest in a single claims management solution that captures claims information gathered from multiple sources in a single location.
FileHandler Enterprise features fully integrated automation and integrated contact management tools that allow the claims user to maintain communication directly from the claim file, keeping all correspondence in one location.
Improved claims communication starts with improved data practices.
Most insurance organizations have a vast value of claims data. It is getting to that value and figuring out how adjusters and analyzers can translate claims data into a language the organization will understand. Then, taking that data and empowering each department to access and understand the insights it provides.
JW Software was started in 1989, as a software company designed to create custom business applications for small businesses in the St. Louis area. The company found a niche in the insurance industry, specifically Third-Party Administrators who needed Claims Management Software to manage their business needs and launched the claims management software. FileHandler™ has become a trusted software solution in the claims and risk management market for the past 31 years. JW Software is continuing its growth and evolution in 2020 with the launch of FileHandler Enterprise™, the newest claims management solution incorporating the newest technology and security to the system. FileHandler Enterprise™, the flagship claims management software, and PolicyHandler, a complete Workers' Compensation Policy Management System, have evolved to develop a comprehensive web-based software solution for businesses to effectively manage policies and insurance claims.