8 Reasons YOU Should Invest in a Claims Management Software
In today's fast-paced digital and interconnected world, vendors and partners are important, and the vendor claims management software used to manage those relationships is critical.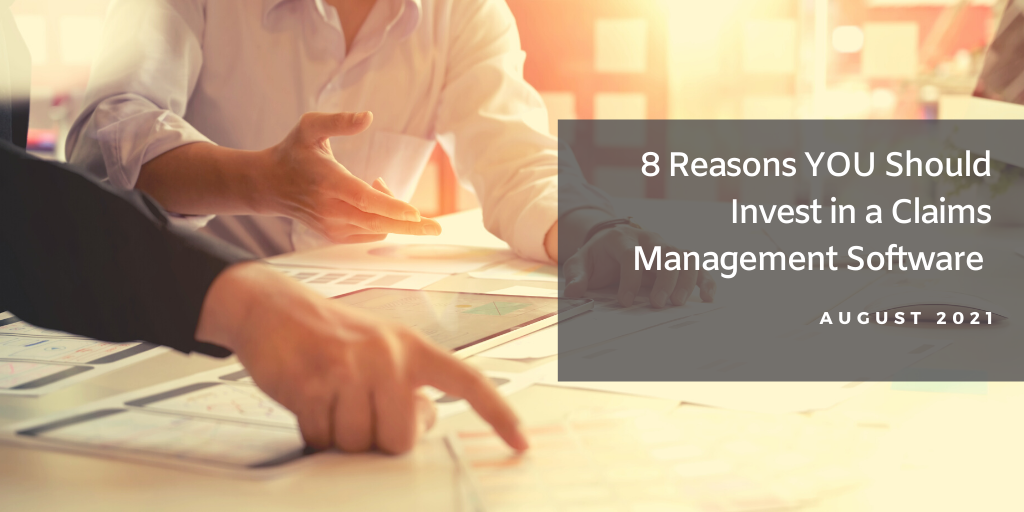 By using insurtech software to automate the claims handling process, companies can increase their profit margins and offer an enhanced standard of customer service. However, to do so, one must choose the best software for your company. Further, insurance agencies and brokers must account for several points such as regulatory compliance, customer expectations, integrations, etc. Under those points, they must also address operational issues like antiquated claims management processes, insurance fraud, and more. But what if you could handle all of these through a single application?
Claims management software helps manage the complete claims lifecycle from creation to settlement. Here are 8 reasons outlined why you should invest in claims management software such as FileHandler Enterprise.
Automation
One of the main advantages of claims management software is that it is completely digital. And digital operations come with an obvious benefit – automation.
Automation offers ample opportunity to identify and pinpoint specific tasks that can be automated, such as capturing the first notice of loss. (FNOL). This allows users to easily choose all their routine tasks and automate them to reduce staff's overall burden.
Standard Processes
Often, insurance claims management and settlement involve numerous parties. On one end we have the client and on the other end is the insurer while in between them you have the insurance broker, bank, claims inspectors, adjusters, witnesses, and more. Claims management software such as FileHandler Enterprise is the common core across each of these players where standard processes are introduced. These standard processes help eliminate any discrepancies.
Improves Claims Processing
Processing and settling claims are just one part of insurance operations. However, it is the most exhaustive and laborious process.
Fortunately, a claims management system like FileHandler Enterprise streamlines the claims process to make it easier, smarter, and faster. FileHandler Enterprise software will help you manage and close claims quickly, process payments to parties or vendors, and provide advanced reporting necessary to manage your business.
Reduces Claims Costs
Manually managing the claims process and settlement will require immense adjuster power and resources. And yet, there is still room for human errors. Each of these could boil over into costly mistakes or ramifications that fail in making a sustainable insurance business. However, having a claims management system such as FileHandler Enterprise can reduce your claims costs. With the previously mentioned automation and streamlined tasks, adjusters are saving time, streamlining workflows, and reducing claim cycle times for more productive claims management to settlement route.
Improved Security
Claims management software, such as FileHandler Enterprise is compliant with personal information and protection laws. Our Hosting with standard Hot-Site Disaster Recovery is backed by industry-leading cybersecurity certifications, as well as an uptime guarantee of 99.99%. The FileHandler Enterprise application is compliant with industry-standard certifications such as PCI-DSS, NIST, SOC 1, SOC 2, SOC 2 +HiTrust, GLBA, and HIPAA.
Swift Fraud Detection
Insurance fraud is a persistent activity and concern in the insurance market.
FileHandler, our claims management software, plays a key role in detecting insurance fraud. With our built-in ISO ClaimSearch interface investigates and identifies claim histories or insured parties and claimants. The interface exports claimant/insured data from FileHandler, and in the event of a match, imports the response data match report from ISO ClaimSearch into the applicable claim file.
Seamless Data Integration
Both claims processing and management software adhere to a data-driven approach.
If your organization has undergone digitization, then claims management software like FileHandler Enterprise can effectively improve your legacy systems and software through seamless data integration. Data integration gives advanced functionalities, enhanced workflows, data standardizations, and real-time access to a single virtual work environment.
Increased Customer Satisfaction
A critical point of interaction between insurance agencies and customers is a claim. However, the customer experience throughout that claim process plays a significant role in if they decide to stay with you or leave for another insurance provider.
Therefore, having a claims management system like FileHandler Enterprise that significantly increases the customer journey is critical. First, the claims processing and management software are dependent on unwavering data-driven facts. Next, customers have self-servicing features or can contact adjusters to gain the real-time status of their claims. Finally, a shorter claims settlement period results in higher satisfaction rates.
The collective act of the above points for a claims management system such as FileHandler Enterprise naturally results in happier customers with improved retention rates.
Because of the customer-centric trend that has taken over the claims management market, insurance agencies can no longer push off claims settlement or make them too complex.
Insurance claims management systems such as FileHandler Enterprise can uncomplicate the claims process and settlement process while making it user and customer-friendly. With such an instrument in place, business is allowed to grow.
Ready to Invest in a Claims Management Software
FileHandler Enterprise can help you increase the efficiency of your claims management process and improve customer satisfaction. Our business automation will help you save time by streamlining standardized processes allowing you to reach work quicker with more accurate information.
JW Software was started in 1989, as a software company designed to create custom business applications for small businesses in the St. Louis area. The company found a niche in the insurance industry, specifically Third-Party Administrators who needed Claims Management Software to manage their business needs and launched the claims management software. FileHandler™ has become a trusted software solution in the claims and risk management market for the past 32 years. JW Software is continuing its growth and evolution in 2021 with FileHandler Enterprise™, the newest claims management solution incorporating the newest technology and security to the system. FileHandler Enterprise™, the flagship claims management software and PolicyHandler, a complete Workers' Compensation Policy Management System, have evolved to develop a comprehensive web-based software solution for businesses to effectively manage policies and insurance claims.