Speed Matters: 3 Reasons Why Rapid Claims are better for Insurers
Reaching an insurance settlement can be a steep climb. Learn the 3 reasons Insurers prefer rapid claims settlements.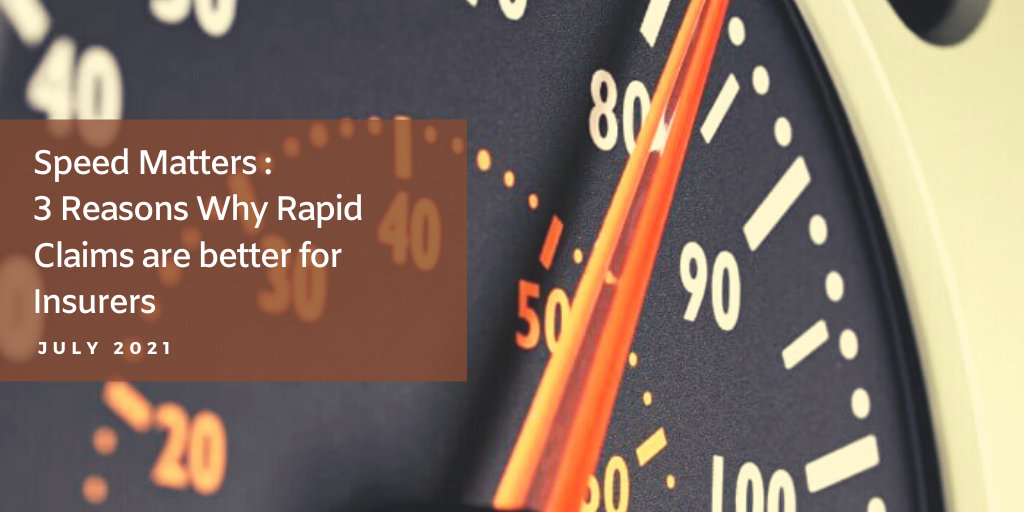 Steps to an Insurance Claim Settlement
When you are injured in an accident, receiving compensation is more than just submitting a claim with the guilty party's insurance company. The claim is often seen as the significant point of engagement in the provider-policyholder relationship.
Claim adjusters support policyholders from accident to settlement through investigations, reviewing coverage, checking for fraud, undergoing negotiation when necessary, authorizing payments, and offering outstanding service. However, without a positive claims experience, there is a significant chance your customer will begin looking elsewhere to handle their future insurance needs.
But what makes a positive claims experience? According to an Accenturecustomer claims study, 94% of policyholders cited speed of settlement as a key expectation when interacting with insurers.
Why Faster is Better
Valuable to both provider and policyholder, a faster claims process:
Improves customer satisfaction and retention
Increases adjuster efficiency & lowers costs
Accelerates the settlement
Improve Customer Satisfaction and retention
Technology today allows consumers to expect speed and efficiency in all their daily interactions, and insurance companies are no exception. A seamless claims process is critical to gaining the trust that builds a strong brand and loyal customer base therefore, every interaction between provider and policyholder lays an opportunity to express your value.
With FileHandler Enterprise, customers find a user-friendly application designed from the ground up to make the claims management process easier, smarter, and faster. Our software features live dashboards, detailed reporting functionality, business intelligence tools, and the latest security technology to ensure customer satisfaction from start to finish.
With FileHandler Enterprise, customer satisfaction is more just a moment in the customer journey.
Increases adjuster efficiency & lowers costs
An intuitive claims management system streamlines the entire claims process for both providers and policyholders. Through automation, claims processing can quickly become an efficient procedure for claims adjusters. For instance, replacing manual methods with claims technology helps reduce costly errors. Additionally, utilizing a new claims management system with streamlined automation will help claims cycle times decrease allowing the reallocation of resources towards high-intensity claims, customer retention, and other opportunities.
For increased adjuster activity and reduction of claim cycle times, FileHandler Enterprise enables your company to save time by streamlining standardized processes. This allows you to reach work quicker with more accurate information all through our business automation tools. With our automation tools, you can assign tasks, run scheduled reports, confirm coverages, and generate customer contact at first notice.
Accelerates the Settlement
After investigations have been evaluated and the claims negotiations have been agreed upon, it is time to settle and close the case without further delay. The quicker the settlement is paid, the quicker the policyholder may return to their life as it were before the accident occurred.
Not to mention, an accelerated settlement lessens the chances of extended litigation and other complications that may impede your customer's ability to move forward.
An Accenture customer claims study found that 59% of policyholders would be willing to share information for quicker claims settlements.
With FileHandler Enterprise, policyholders can communicate in real-time with providers to better accelerate their claims. Our fully integrated claim email allows users the ability to maintain communication directly from the claim file.
Ready to Speed up your Claims Process?
FileHandler Enterprise can help you increase the efficiency of your claims management process and improve customer satisfaction. Our business automation will help you save time by streamlining standardized processes allowing you to reach work quicker with more accurate information.
JW Software was started in 1989, as a software company designed to create custom business applications for small businesses in the St. Louis area. The company found a niche in the insurance industry, specifically Third-Party Administrators who needed Claims Management Software to manage their business needs and launched the claims management software. FileHandler™ has become a trusted software solution in the claims and risk management market for the past 32 years. JW Software is continuing its growth and evolution in 2021 with FileHandler Enterprise™, the newest claims management solution incorporating the newest technology and security to the system. FileHandler Enterprise™, the flagship claims management software and PolicyHandler, a complete Workers' Compensation Policy Management System, have evolved to develop a comprehensive web-based software solution for businesses to effectively manage policies and insurance claims.