5 Advantages of Claims Administration Software for Public Entities
Insurance claims are costly, complex exchanges involving multiple parties, systems, and regulatory concerns.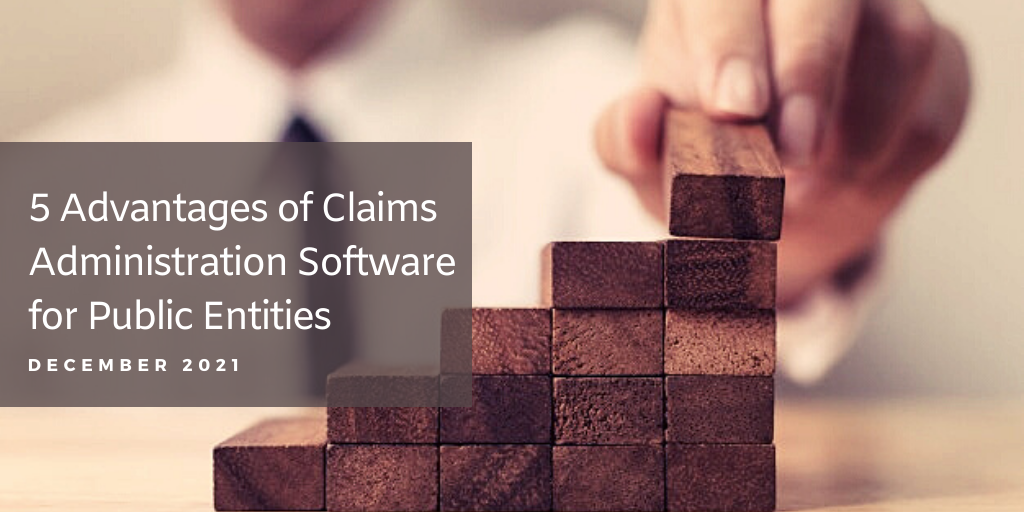 Insurance claims are costly, complex exchanges involving multiple parties, systems, and regulatory concerns. One challenge of claims administration comes from the back-and-forth involved for all parties. Subsequently, claims processing is time-consuming for all involved.
The error margin for claims administration can be rather large, specifically when the administration is performed within spreadsheets, across multiple departments, and numerous entities needing to sign off. Even completing a simple form, one small error can end in denial.
Claims administrators frequently struggle to track claims and monitor every regulatory change ensuring compliance with claims filing which is another drain on resources. As the rules often change, claims handling becomes even more complicated. With increased regulations claims managers and adjusters spend more time on claims administration.
Organizationally, it is crucial to mitigate costs while improving customer service and outcomes. Simultaneously, claims administration teams should focus on higher-value initiatives instead of claims paperwork.
There is a better route. And since claimants prefer to monitor their claims online rather than call and email all day for a status report, claims managers, administrators and adjusters will want to consider migrating their claims administration process and claimant interface to a digital platform.
5 Advantages of Claims Administration Software
The best route is to have claims managers and adjusters back on those essential actions to streamline workflows at any turn. Here is how claims management software can transform the process:
Improve employee productivity: Many claims administrators are facing more significant claim challenges and escalating claims costs. These challenges and rising claim costs impact productivity and profitability. Technological advances in claims management help managers and adjusters handle claims with speed and accuracy. With workflow automation, streamlined processes, and enhanced analytics, claims errors are reduced, claims productivity improves, and new methods for managers to analyze adjuster productivity open.
Fast-track workflows: Processing a claim is a costly, complex, and labor-intensive process that involves multiple parties, systems, and concerns. Current offline claims processes are prone to disruptions and errors, potentially increasing costs. Adding automation into your current claim cycle can help increase output with less manual interaction throughout the cycle. With FileHandler Enterprise™, adjusters can utilize built-in automation and business rules, workflow systems, and built-in email capabilities to streamline the claims process. From the first contact to settlement, FileHandler Enterprise allows you to reduce costs, labor, and errors through one streamlined interface.
Manage documents and information: The lifecycle of a claim is riddled with paper documents, bills, forms, and correspondence. Unfortunately, when that information is only available in a filing cabinet, it can be difficult to find that one specific piece of paper with accurate information. But, claims management software changes that – now with a paperless environment, any claims information is easily and instantly found through a simple search.
Stay up-to-date: Staying on top of any changes within the claim file is crucial for any public entity. Schedule notices of essential tasks or updates about the claim via diaries. Notify claimants on time with accurate information at your fingertips with our comprehensive diary tool and monitor all claim activities.
Streamline administrative tasks: Many claim organizations still heavily rely on paper and physical records for the claims process. Each claim generates a heavy volume of content, correspondence, and files sent and received. In addition to this, task assignments, document images, and billing are all usually stored in separate systems. Streamlining these systems and tasks can allow you to reach work quicker with more accurate information.
JW Software was started in 1989, as a software company designed to create custom business applications for small businesses in the St. Louis area. The company found a niche in the insurance industry, specifically Third-Party Administrators who needed Claims Management Software to manage their business needs and launched the claims management software. FileHandler™ has become a trusted software solution in the claims and risk management market for the past 31 years. JW Software is continuing its growth and evolution in 2021 with the launch of FileHandler Enterprise™, the newest claims management solution incorporating the newest technology and security to the system. FileHandler Enterprise™, the flagship claims management software, and PolicyHandler, a complete Workers' Compensation Policy Management System, have evolved to develop a comprehensive web-based software solution for businesses to effectively manage policies and insurance claims.